There they were. Moments from certain death.
The smoke filled their lungs. The flames shot out nearly burning one of them to death. And the booming voice threatened to destroy them if they didn't follow his instructions.
Then, in an instant, they knew they weren't going to die.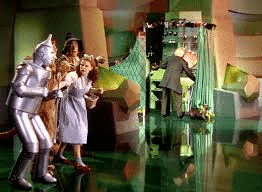 Take Our Attractive Husband Self Assessment Here >>
What happened?
Dorothy's dog, Toto, pulled the curtain back to reveal the TRUTH. Some little wizard bully with a microphone was culprit.
The whole crew went from extreme fear and anxiety to curiosity and being a little pissed off.
This is the power of knowing the truth.
Your MIND can play tricks on you when you believe things are true that aren't.
Think about a police car screaming up behind you with lights and siren blaring and then passing you to catch someone else.
You go from "Oh shit!" to "Oh good!" in one second.
Think about a guy in the airport rudely bumping into you and then you see he's blind.
You go from "You SOB!" to "You poor guy!" in an instant.
This same MIND SWITCH is crucial if you're facing a possible separation or divorce.
A recent comment from a client in my Facebook community explained it beautifully.
It feels so liberating when you are able to let a person leave your life and not turn her decision into a judgement of shame about yourself, and be able to continue living your life unconditionally and fully in your own lane, and gradually without anger and hurt…but peace in the knowledge that you are enough, you will be fine, and happiness is always just a thought away.
1. You are enough.
2. You will be fine.
3. Your happiness is always just a thought away.
The road to healthy self-reliance and outcome independence requires you to achieve these 3 critical mind shifts.
I talk more about these 3 important truths in this video.
Most men who are confronted with the threat of losing their marriage and family unit are immediately gripped with fear, confusion and anxiety.
They think the wrong thoughts which makes for really bad decisions.
This includes over-reactions and totally ineffective "solutions". They fight, argue, negotiate, beg and control everything they can.
But the most effective THOUGHT to start with is, "I'm not gonna die."
That's the truth. You're okay and you'll be okay.
This is an impossible journey to weather alone. This is why we've created communities of amazing men to support, encourage and teach you how to keep your head straight.
Joining a brotherhood of men who knows EXACTLY what you're going through is crucial.
Then, building your emotional strength, confidence and self-respect will help you to think straight and take actions that are actually effective.
If you want to feel more connection, emotional strength, confidence and self-respect than at any other time in your life I have two invitations for you.
The Men's Live Coaching Roundtable is a powerful collection of men from around the world working together to transform themselves and their relationships. Dan Dore and I lead this community with 5 other professional coaches. We have live coaching video calls twice per month. The camaraderie in this group is something missing from the lives of too many men in the world.
Our online course How to Defuse the Divorce Bomb is a deep and intense dive into handling yourself when you hear, "I love you but I'm not in love with you anymore." Tim Wade and Steve host monthly live Q&A calls with all the students in this course which includes many other bonuses as well. Find out more here.
We love teaching men these tools – how to be better, how to know who you are, what you stand for, what you want and how to CREATE it in your life through our Masculine Confidence coaching programs.
What if this next year everything changed for you?
That's what we want for you brother.
My new book Straight Talk Tools for the Desperate Husband will help you to lead yourself and your relationship back to good health. Understand why your partner acts the way she does toward you and learn how to lead your life in the direction you want it to go. You CAN have the relationship you want, fulfilling all your desires while maintaining love and respect.
I wrote a free e-book to help men learn how to lose their fear and be more bold in their marriage to create the love and connection they want. Get The Hard to Swallow Truth About Saving Your Marriage HERE
Sign up to receive my email newsletters here for lots more free tips and advice.
You can watch all my videos here and read my blog articles here.
See what life changing results you're missing out on here.